May 6, 2021 10:31 AM Central
Sp'Oil Yourself Canada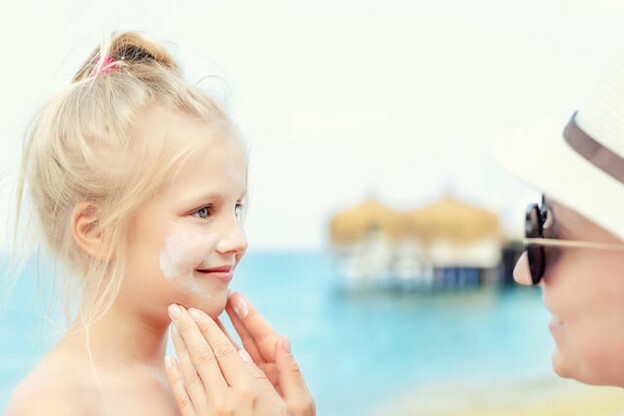 𝗪𝐡𝐨 𝐢𝐬 𝐫𝐞𝐚𝐝𝐲 𝐟𝐨𝐫 𝐬𝐨𝐦𝐞 𝐭𝐢𝐦𝐞 𝐢𝐧 𝐭𝐡𝐞 𝐬𝐮𝐧?
But you want to make sure you are protecting your largest organ – your skin?
Sunscreens are one of the most effective methods to protect the skin from the sun's harmful rays. Sunscreens can also prevent premature aging and skin cancer. But you need to know the ingredients to ensure this is the case with your sunscreen.
Every year I get a TON of questions about sunscreen and outdoor spray. And a ton of people will express to me how good I smell and ask what I am wearing.
Before YL came out with their own mineral sunscreen and outdoor blend, we made our own to avoid the risks of store-bought products. AND to my surprise, they worked much better for me than the ones with harmful ingredients. I have never tanned so well without burning, the bugs don't love me, and the people around me ask all the time what that beautiful scent is. They are always surprised when I say it is my DIY Sunscreen/Bug Spray.
How to be sure of the effectiveness, how to know what DIY recipes to follow, and of course — how to justify the cost of switching away from your cheap store brands!!
So let's chat about types of sunscreens
There are two types of sunscreens - chemical and physical barriers.
Chemical barriers contain ingredients that absorb the rays from the sun. These chemicals change in structure when they come in contact with the sun's rays. The number of rays they can absorb before not being protective anymore translates to the SPF rating. Store-bought sunscreen, unless clearly labeled as mineral sunscreen, contains chemical barriers.
𝐒𝐨 𝐦𝐨𝐫𝐞 𝐒𝐏𝐅— 𝐦𝐨𝐫𝐞 𝐜𝐡𝐞𝐦𝐢𝐜𝐚𝐥𝐬. 𝐓𝐡𝐞𝐬𝐞 𝐜𝐡𝐞𝐦𝐢𝐜𝐚𝐥𝐬 𝐚𝐥𝐬𝐨 𝐚𝐛𝐬𝐨𝐫𝐛 𝐢𝐧𝐭𝐨 𝐨𝐮𝐫 𝐛𝐥𝐨𝐨𝐝 𝐬𝐭𝐫𝐞𝐚𝐦 𝐪𝐮𝐢𝐜𝐤𝐥𝐲.
Studies have looked at how they travel through the body and have found that they were detectable in blood and breast milk for up to 48 hours after ONE application
Mommas, does that seal the deal on helping you switch to a mineral? Cause it should!! Protect those baby's body systems.
Physical barriers work by reflecting or scattering the UV rays away from the skin. Zinc oxide is the ingredient in sunscreen that gives your skin that pasty white look after application. Because this is not appealing to consumers, manufacturers make the zinc oxide particles smaller to minimize the pasty white look. Who wants a chalky white face on the pool deck or beach, right? Companies may entice you by labeling sunscreen products as "invisible zinc", "sheer" or "clear". These words should give you an indication that these products most likely contain nanosized zinc particles. But can these tiny particles be harmful to our body?

When shopping for a sunscreen, it is not only important to know what ingredients are safe and effective in combating the sun's harmful rays, but it is also important to understand what terms like "micronized," "nanosized," and "nanoparticles" refer to when it comes to your sunscreen.
It turns out that nanoparticles do work differently from non-nanoparticles. Zinc oxide is a good example. One of the reasons that nanoparticles are more clear and more sheer is that they reflect less and less visible light as the particle size becomes smaller and smaller. You want to make sure you are using a non-nano mineral sunscreen. Zinc oxide (what we use in the YL mineral sunscreen) has actually been found to be superior to conventional sunscreens and different types of minerals at blocking broad spectrum rays! Yay!
When you use a non-nano mineral sunscreen you are applying a safe substance to your skin that physically blocks the UV rays from touching your skin! Even better...
𝐢𝐭 𝐃𝐎𝐄𝐒𝐍𝐓 𝐚𝐛𝐬𝐨𝐫𝐛.
Just like our beloved SAVVY makeup- it sits on top of our skin so that there is no destruction to the skin (think aging, pimples, etc) only skin-loving properties that will help you achieve a radiant glow this summer!
Let's Talk SPF
Let's dive into how SPF is calculated and why an increase in SPF isn't giving you the added protection that you may think. Hint, going from a 10 SPF to a 50 SPF does not equal five times the protection.
Sunscreens are labeled with a sun protection factor (SPF) that measures the fraction of sunburn producing UV rays that reach the skin. For example, SPF 10 means that 1⁄10 of the burning radiation reaches the skin through the recommended thickness of sunscreen. 1/10 translates into a barrier that blocks over 90% of the damaging rays when tested!! The recommended thickness is an important factor and means the thickness of the lotion when applied to the skin.
Pretty good right? So, with all the SPF 100 and above on the market today, what kind of coverage does it give you?
SPF 10 provides 90% UV protection
SPF 15 provides 93.3% UV protection
SPF 30 provides 96.7% UV protection
SPF 50 provides 98% UV protection
SPF 100 means it *should* block 99%... not a huge increase right?
SPF only takes into account UVB rays, NOT UVA rays. UVB rays cause sunburn and UVA rays can potentially cause long-term damage to the skin, like premature aging and cancer. Therefore, SPF isn't a perfect measure of the damage caused to the skin by the sun for these reasons.
In several countries, labeling restrictions have been set so that consumers don't get confused about the meaning of the term SPF. Some countries cannot label past 50 SPF because we aren't even sure if there's a difference in effectiveness beyond that! Basically, companies are using unrealistic claims when labeling above 50! And it is more about consumer awareness. Most consumers think by the increased labeling of SPF they are getting an exponential increase in protection. That is not true.
How often do you need to apply the Mineral Sunscreen Lotion? All you need to do is take the SPF count (10) and multiply it by the minutes it takes you to burn without protection. For example, I can be out in the sun for approx. 20 minutes before I burn without protection, 20 X 10= 200 minutes. I can potentially be in the sun 200 minutes before I need to reapply again. This does not take into account the intensity of the sun, sweating, and being in the water.
𝐒𝐨 𝐰𝐡𝐲 𝐜𝐡𝐨𝐨𝐬𝐞 𝐘𝐨𝐮𝐧𝐠 𝐋𝐢𝐯𝐢𝐧𝐠 𝐨𝐯𝐞𝐫 𝐨𝐭𝐡𝐞𝐫 𝐦𝐢𝐧𝐞𝐫𝐚𝐥 𝐛𝐫𝐚𝐧𝐝s? Well, here's a couple of reasons for you to consider.

1.
You know for sure that we only use completely safe ingredients as per our seed to seal GUARANTEE. We would never use an ingredient that would cause harm or damage. This means it's safe for babies too, which is important! Most sunscreens say to not use on children under 2 due to the type and amount of chemicals being absorbed into their tiny selves.
2.
We fortify ALL of our products with our essential oils amping up the effectiveness and skin-loving benefits!
𝐀𝐍𝐃
3.
If this has convinced you but you are still set on finding a cost-effective way to switch. Don't you even worry! I have compared our prices to other mineral brands, and we still come out on top! YL does not make products for profit, rather for a purpose. They always work to bring you quality products that don't come with extras ingredients (fillers) and added price!!
Young Living's sunscreen comes in SPF 10 and 50. This one small tube will last you a lot longer than you think as a little goes a long way. No need to slather tons of product on. Paying less more often is not saving you money. Paying for a quality product may be more out of pocket at the onset but when it lasts longer AND works – it is so worth it! I still have some left in my tube from last year and I am fair-skinned!
More details on Young Living Mineral Sunscreen
In addition to 90% protection from the sun, YL's SPF 10 Mineral sunscreen provides broad-spectrum UVA and UVB protection, sweat and water-resistant for 80 minutes, and uses non-nano zinc oxide! This is what sets YL's sunscreen apart from other natural sunscreens on the market!

Young Living's Mineral Sunscreen Lotion, made with ingredients you can feel good about, provides protection against UVA and UVB rays without harsh chemical ingredients. Instead, the non-greasy sunscreen offers broad-spectrum SPF 10 or 50 protection using non-nano zinc oxide—a physical UV blocker. The lightweight formula goes on smooth and stays water- and sweat-resistant for 80 minutes, so you can feel comfortable while you are moving. With hypoallergenic ingredients and skin-loving essential oils—such as Helichrysum, Carrot Seed, and Sacred Frankincense—this gentle sunscreen rubs on smoothly without leaving a white residue, so you can effortlessly add it to your time outdoors. It is labeled for use on children and adults over the age of 6 mos.
Young Living SPF 50 has double the zinc oxide in the formulation. There is 10.5% zinc oxide in the 10 SPF and 22% zinc oxide in the 50 SPF formulation. Therefore, this allows us to make additional claims that it protects against skin cancer. SFP 50 is guaranteed to be reef-safe as well. With many tropical destinations banning many sunscreens, you can rest assured that you can protect your skin while protecting the fragile ecosystems.
NOTE
: you can apply it under your makeup before going out in the sun.
REMEMBER
, everyone's skin is different! Reapplication is more about time than protection!
So there ya have it. Hope you learned something! If you want to dig into SPF further here are a few pages you can reference!
Sunscreen - The Skin Cancer Foundation
Sun protection factors: world wide confusion - PubMed (nih.gov)